Quik.com & UnstoppableDomains, how to create your first NFT domain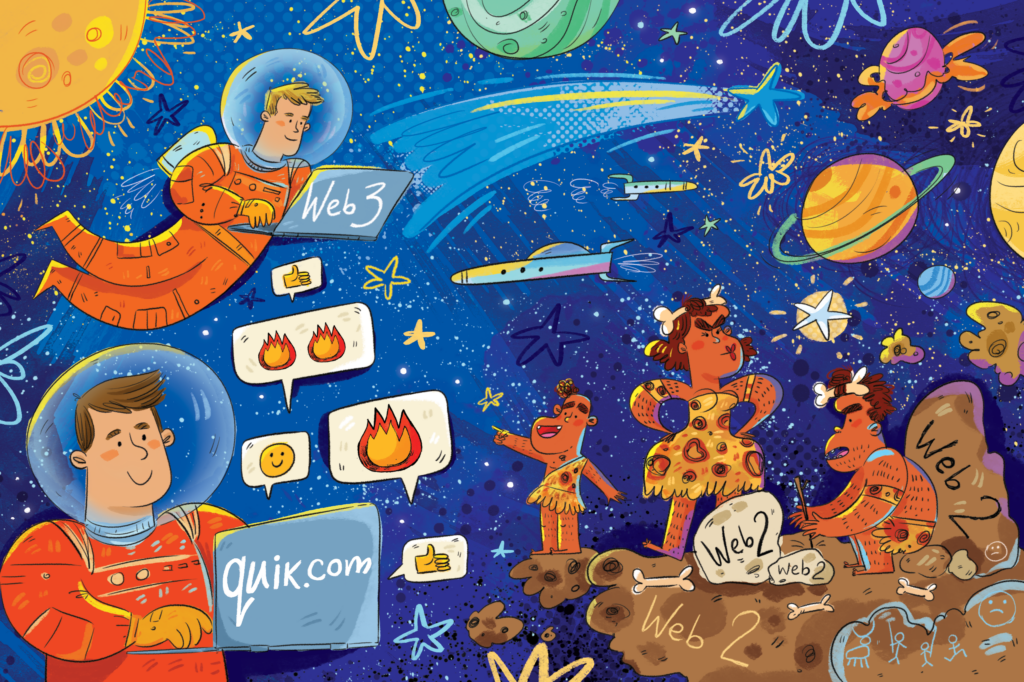 The NFT domain is the new trending topic. It's 2022 and people are watching the rapidly evolving internet revolution around them. Therefore, they want to move from conventional Web 2.0 to decentralized Web 3.0. The ultimate bridge between web 3.0 and Internet users is the NFT domain!
NFT domains are the new domains other than .org or .com domains that are not controlled by any central entity and offer 100% ownership to their users.
NFT domains are not rented but owned!
People can store their NFT domains in crypto wallets like their regular investments.
There are two main markets for NFT domains, Unstoppable and Quik domains.
To create your first NFT domain, visit Quik.com now.
These websites offer various activities related to the NFT domain, including buying, selling, minting, and registering. People can access various TLDs on these websites at reasonable rates. So don't expect too much. Start your Web 3.0 journey now.
Quik vs Unstopabble domain: the main NFT marketplaces.
To buy an NFT domain, you need to visit any NFT domain marketplace. These are online stores where you can buy, sell or create your NFT domains. As you invest with crypto, you invest with the NFT domain. You can also store these domains in your crypto wallets like your usual cryptocurrencies.
However, some people tend to sell their domains and make a good profit. And NFT domain marketplaces are the perfect place to do it! You can choose from various NFT domain marketplaces such as Quik and Unstoppable domains.
Here is a brief comparison between Quik and Unstoppable Domains.
Quik.com
Easiest NFT Domain Marketplace:

It doesn't matter if you are a beginner or a pro. Quik understands everyone's situation. Their easy-to-use website and user-friendly interface guarantee you a smooth typing experience!

Works with each domain:

Quik provides a unique NFT illustration with each domain. It's like buying NFTs, so you don't miss this experience. These unique NFT artworks have unique characteristics.

Blockchain equipped infrastructure assistance:

Quik aims to help businesses and creators with blockchain-based approaches to simplify transactions. It is equipped with BSC, GateChain and Ethereum.
Unstoppable Domains
Supported dApps:

Most of the decentralized applications are supported on the Unstoppable domain website, which makes it easy to use.

Advantages of the blockchain base:

One of the remarkable features of blockchain technology is its unique security. Cyberattacks on your blockchain-based domain are nearly impossible.

No censorship:

Unlike .com domains, Unstoppable domains registered on public domains are not restricted to jurisdiction and therefore cannot be deleted!
How to create your first NFT domain?
Hitting NFT domains is easy! You just need a good NFT market having large domain collections. You can follow a few simple steps and get NFT domains in minutes. Let us discover them!
#1: Log in/Sign up to your favorite website
Go to your favorite NFT domain market and log in using metamask.
#2: Research your favorite domains
Find the domain you prefer to buy.
#3: Explore Suggested Areas
You can choose suggested domains if your preferred domains are not available.
#4: Add your domain to your cart
Add the domain you selected to your cart. Don't forget to add it to your NFT wallet.
#5: Finalize your purchase
Complete the transaction and the domain will automatically be added to your wallet.