Austin will become the domain capital of the world on Wednesday when NamesCon Global arrives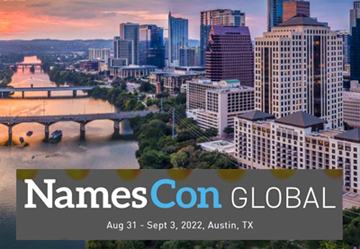 The time has finally come. After a pandemic-induced two-and-a-half-year wait, investors, developers and service providers of domains and digital assets from in the whole world will finally be able to meet face to face this week in 2022 NamesCon Global Conference at Austin, TX. The big show will run from Wednesday (August 31) to Saturday (September 3) downtown Omni Hotel.
Full to bursting two-pronged agenda packed with business sessions and social events will begin at 10 a.m. (US Central Time) Wednesday when
Soeren von Varchmin, Chairman of the NamesCon Advisory Board, will host the welcome session. The first day of activity will continue until 6 p.m.
when the opening night Reception will take place at the Omni. Once that wraps up at 9 p.m., those still not ready to call it a night can meet again offsite at 9:45 p.m. for a Frank Schilling Tribute Partyopen to all NamesCon attendees, who Gregg McNair hosts at Eberly
in Austin.
I will host two opening days in the
Bodis Speakers Room Wednesday. The first to 11:05 a.m. is a Table by the fireside
with domain/artist investors Christian Calvin which I previewed in a Footer message last month. Over the past few months, Christian has created a NFT series just for NamesCon who will be up for grabs this year live domain and digital asset auctions

which will take place on Thursday afternoon. We'll give you a behind-the-scenes look at Christian's NFT creation process so you can see what aesthetic, platform, and messaging choices go into creating an NFT that's built to last.

I will come back to 4:30 p.m.
for what promises to be a great session with
Trellian

Co-founder David Warmuz. Trellian celebrates their 25th anniversary this year and David will share some amazing stories from his quarter century in this business. We will see how the arrival of PPC revenue

Christian Calvin

triggered a explosion of domain sales which has evolved into the booming domain investment industry of today. David and his late brother and company co-founder, renbought an incredible number of domains in those early years before establishing the ever-thriving domain of Trellian domain monetization platform above.com. David will tell attendees what led to this shopping spree, as well as the incredible story of his 22 year pursuit
of the domain he wanted the most and finally got – Trillion.com (yes, that would have been the company name instead of Trellian if it hadn't turned out to be such an elusive catch)!

In the first years of Trellian, Founders Ren and David Warmuz present to the participants of the show Submit Wolf search engine submission software which was one of the by Trellian
biggest success.
One more thing about this long-awaited edition of NamesCon. I will cover it in a other that I have from past conferences. Normally I would post a full recap of the previous day's events
each morning during the show. To do this I had to spend many hours away from the living room, writing and editing photos for the next daily report. One thing the pandemic and the recent unexpected death of Shaun Pilfold finally taught me is that you never know when or even if we will see some of our friends and colleagues again.
So after missing everyone for over two and a half years, my priority for this conference will be to spend as much time as possible on the floor talking to people. I will still enter each semester to get photos and notes to share with you. However, instead of posting a full daily recap, I will post some daily highlights but save most of the cover for a full conference wrap-up Cover story which I will write when I return from Austin. This way you will always see everything you used to see and I will have invaluable extra time to catch up with my friends and colleagues while we everything in the same place at the same time – something that I think some of us have been guilty of taking for granted, but probably won't be anymore.

At the last NamesCon Global conference at January
2020before the pandemic hit, are (left to right) lawyers Howard Neu and Karen BernsteinDNJournal's ron jackson and
Soeren von VarchminChairman of the NamesCon Advisory Board.
My next article will be by NamesCon. Hope to see you there, but if you can't make it, keep an eye out on this space for some daily highlights after the show begins. It's almost time to raise the curtain!